The Gadget Museum - Technology Evolving ...
The Gadget Museum is a collection of the electronic devices that have change our lives. From toys to computers we have a unique collection that will amaze you.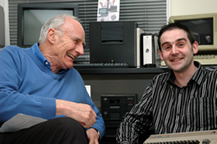 The museum is located in Cambridge, UK at the Centre for Computing History and although some of the items are on display to the general public, most are currently archived.
We specialise in gadgets, toys, games, mobile phones, computers, hi-fi, music, electrical and general electronics ... We're a bunch of geeks that loved and lived in the 60's, 70's, 80's and 90's and have hoarded everything we picked up along the way !!
Some of our most popular items ...
Credits - Some of our recent projects ...

---